Got a lot done, even if it doesn't appear that way. I was able to finish the plumbing for the copper lines on Friday night as well as install the drain. I covered up the remaining area of the floor on Saturday morning. I also cut in the recessed light in the kitchen, but had some problems fitting it in, so I ended up damaging the plaster on the ceiling. That sucked. Not a big deal as I will be patching a lot of damaged plaster in other areas, just more work.
I also built the wall for the dining area and ran the electrical for that area. It's got old-school electrical lines (no ground or "common" wires for the lighting, only a power wire). Once the dining wall went up, the place really started to take shape. Alene and I attempted some pull-ups on the beam that spans the half-wall (You will see the picture below). I am planning on putting an arch in this area, I've just got to figure out "how". I think I've got an idea though (use a template and a lot of patience).
Anyway, I'm about ready to sheetrock. I have to do 3 more things in the kitchen (finish the ventilation for the plumbing, add a phone line to the wall, and fix the heating vents) then we're ready for sheetrock and paint!
Alene and I went to Home Depot last night to get the remaining items we needed (tile for the counter tops and other misc. items). We also used our last 20% off coupon, which was nice. In all we saved about $700 on the project with these suckers. Not too shabby!
Here are pictures from yesterday:
Here is the finished plumbing (the drain pipe isn't in in this picture???)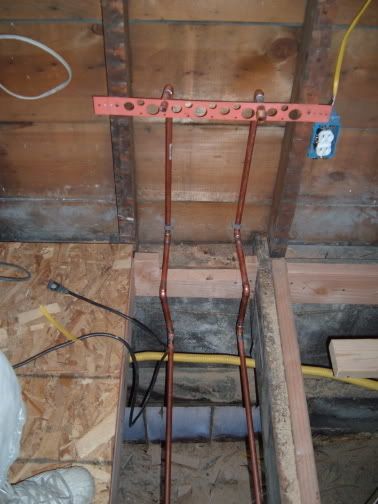 Here is the recessed light I put in which will be above the window and sink (I have to repair that area around it)
Here is the dining wall going up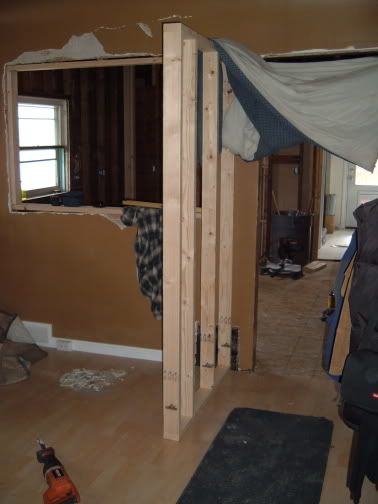 Here is the power I ran through the wall (again, notice only 1 wire: the hot (power) wire. No common or ground.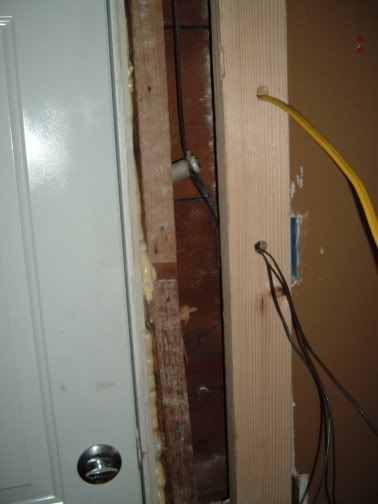 Here is a picture of the dining wall with the header placed in (good for doing pull ups right now)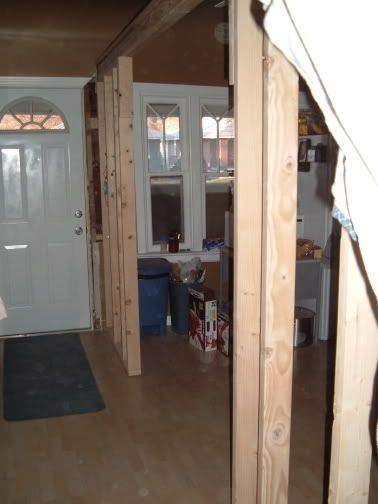 Here is a picture of the kitchen sub floor completely in