We got up EARLY for vacationers (6am). The reason: Chichen Itza. Prior to arriving, we purchased a tour of Chichen Itza. We got up early so we could get to breakfast by 7am, then have enough time to get picked up by the tour bus. We decided to arrive to the breakfast area at 6:50am and noticed they were already opened (the time said 7am). One thing we learned was that in Mexico, sometimes they open early. Sometimes they open on time, and sometimes they open late. Whatever works for them.
Same goes for the Bus. Our Bus was supposed to be there by 7:20, but did not pick us up until closer to 8:45. We started to get nervous because TONS of other people were getting picked up by their particular tour busses, but we weren't. When the last bus came, they did not call our name. I went and asked the Bus driver and he had our name spelled "Rot" on the passenger list. Good thing we checked.
They then took us to another parking lot where we got off and switched to another tour bus. Our Tour Guide was HILARIOUS. The dude had a great sense of humor. He started off asking people where they were from. When he got to Alene and I, we said Utah and immediately "are you mormons?" The whole bus errupted with laughter (as did we). I bet he was so used to seeing those book of mormon land tours cross his path. He also talked about the region (keep in mind, this was all over a microphone) and started saying how the main food source for them was Corn, just like Rice was for Asia, and the hamburger was for America. That got a lot of great laughs too.
We first made a bathroom stop at the border of the state we were leaving (Quintana Roo) and the state we were going into (Yucatan, I think??) and their
checkpoint
where there were
mexican military
men with machine guns and such, looking really intimidating. They didn't stop any of us or anything, but it was rather odd. It would be like seeing some army dude with a machine gun at the border of Utah and Nevada or something. I bought a nice cold coke and gulped that bad boy down. One funny note as we approached this area. Our tour guide said, "when we get there, make sure you all have your passports out and ready to show to the guards". Everyone gasped, then he started laughing. He was joking. Luckily, Alene and I had brought ours just in case.
After that, we made a stop at a Mayan Village where they had a Cenote, which is a deep and wide water well of sorts. They had steps you could walk down into to get to it (through a cave), and they allowed you to swim in it and even jump off a 15'-20' high area. They were VERY protective of the vines growing down into it and if you came close to touching them, the mayan dudes would blow their whistles. Alene and I were bummed because nobody told us to bring swimwear, so we did not get to jump in. I had shorts on, but I could not imagine walking around all day with wet shorts/undies and all the chaffing that creates.
Here is a picture of the Cenote and me walking down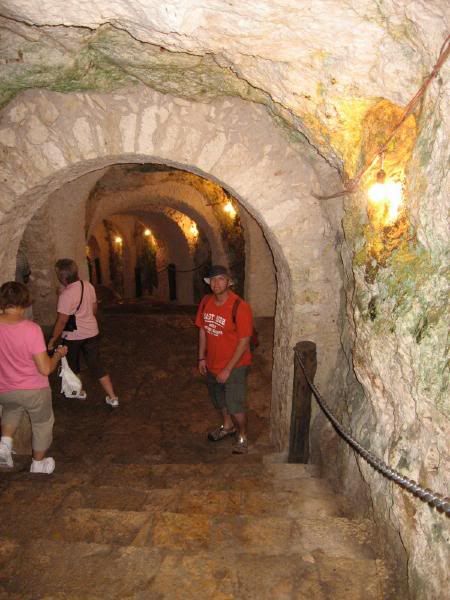 After the Cenote, we walked up to the store, where the Mayans were selling all sorts of locally made items. Little did we know, we could have purchased everything we wanted right there as EVERY Mayan person selling things, sold the exact same things (more on that for Saturdays trip). The bus then took us through an authentic mexican town, where there was a cool "town square" if you will. I did not get pictures of it, but it looked really nice. Everyone was just kind of hanging out. We then went to another smaller town and they took us to a restaurant place where they served us lunch. There, they had the HOTTEST pico salsa I've EVERY had in my life. I took a large bite of it, thinking it looked harmless (it looked like tomatoes and onions with a few peppers) and before I had been served my drink. I thought I was going to die. My eyes watered, my nose became runny, but I didn't really try to show how badly it hurt and toughed it out. During the eating, some of the local mayan's did this little dance for all of us (some sort of tap dancing), then they did it to another song with trays on their heads and glasses with water in them. Impressive.
After that, we got to where we'd been wanting to go the whole time: Chichen Itza. We arrived and the tour guide said we could opt to not go on his tour of the place and just look around ourselves. Alene and I BOOKED it off the bus because they only gave us a total of 3 hours to see it all (not enough time). The experience seeing the place was awesome. It was so amazing to think you were seeing these ancient buildings and grounds. Places fought over and places were odd rituals happened. I thought about how I could be standing on one spot where blood was shed by some poor Mayan indian who was captured from his villiage and taken there for a sacrifice of sorts (OK, the movie Apocalypto was still fresh on my mind).
As we made our way out to the park, we noticed the walkway out was LINED with local Mayans, there to sell all the products they either handmade (mostly the masks) or were selling little rock carvings of the pyramids made somewhere else (everyone was selling them, so it was obvious they were not made by the seller). They also had all sorts of jewelry and stuff like that. It was INSANE how much they tried to get you to just come look at their stuff. I was thinking, "Man, if only these people would come to SLC, I could hook them up with an AWESOME paying job as a collector at my work". The masks were really enticing to me. But I'll talk more about that later.
Alene and I decided to not buy anything at the beginning (so we didn't have to haul it around), so we headed straight for the main attraction of the site: the Temple of Kukulcan. We were both disappointed to find that it was roped off, so you could not walk to the top of it and you could not go inside of it (where there were some cool statues and stuff). Almost all the pyramid structures and many of the other structures were roped off. It sucked, but we understood.
Here we are at the backside of it
Here is Alene in front
The place was crawling with all sorts of things to see. As stated before, every path was covered with people trying to sell you things. It was nuts and almost took away from the excitement of seeing it because you spent a lot of time telling people no thanks or just ignoring them while you tried to enjoy the site.
Here are some other pictures from visiting:
Alene kissing her Mayan boyfriend carved on the face of that stone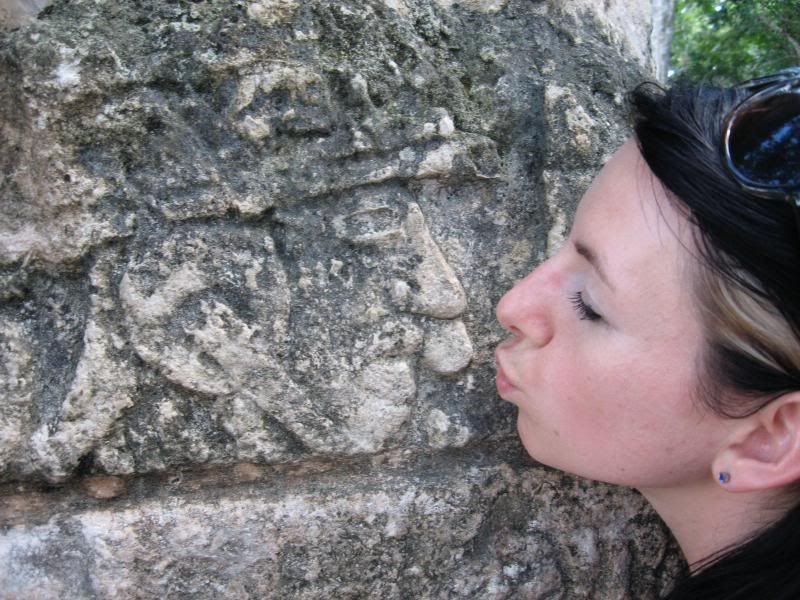 Alene in front of El Caracol, which is a space observatory they had built with a domed roof
The great Ball Court they used to play those weird basketball/soccer/spear the dudes on the court game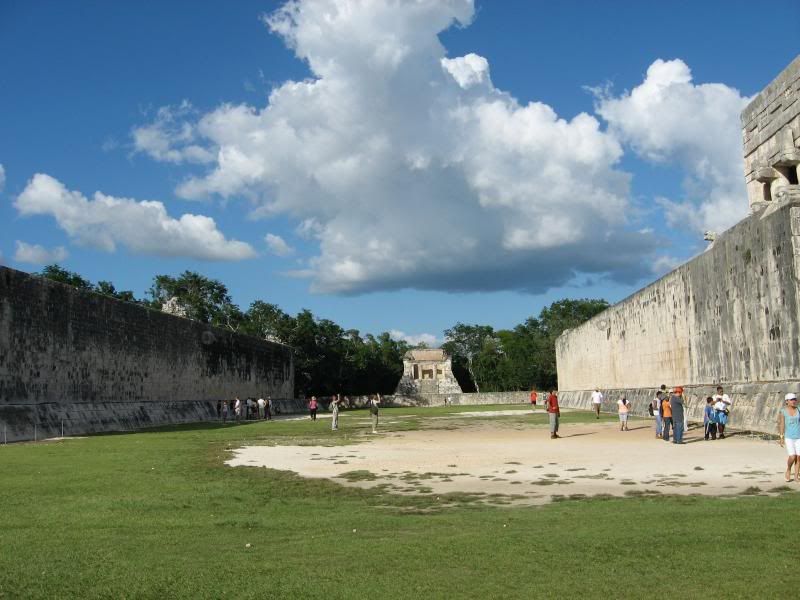 Me striking my best Heisman pose on the great ball court. I can't imagine having to play football while people threw spears at me.
Another Cenote (although this one did not look like a good one to swim in)
Finally, we set off the purchase some stuff. I spent a long time trying to talk this one dude down from $70 (his first offer) to $25 for one of those cool hand-carved Mayan masks. He would not go below $30, so I walked away and on my way out, found another dude on my way out with a Mask I liked. I tried to talk him down to $25 and he too would not budge. He went to $35. I told him I just walked away from someone that offered $30 and he took it. He tried to get me to give him my sunglasses with it, but I think he was just joking.
Here is my prized possession:
The bus ride back was in the dark, so most of the people slept and it gave me a good chance to devour my book I was reading. It was such an easy read, in fact the easiest thing I've ever read. I did not want to put it down because it was so tense, I wanted to see what would happen next.
When we got back to our hotel, we were exhausted. We got some dinner and I think we just went back to the hotel and watched TV. O Brother Where are't though was on, so that made for some good laughs. Speaking of, our TV was TINY and only got a few stations if you were lucky. Every once in a while they would broadcast a football game in spanish (American Football, that is). The other thing is funny, the only sports they talk about on the Mexican ESPN station is soccer. Nothing else. It's like soccer 24/7 down there. Every once in a while they would mention some NBA game, or a tennis match, but it was guaranteed if I turned to it, it was soccer.