Holy crap, where do I begin. I guess I'll go in chronological order.
1. My 8th grade FB team won their game and made it to the play-offs. We beat Taylorsville 33-12. Taylorsville has an AMAZING RB that returned a KO for a TD and ran for a long TD as well. On his long TD run, we had him stuffed in the backfield, then he broke free and busted around the corner for paydirt. After that we were able to shut him down, but it was still scarry to see him with the ball in his hands.
In addition to this good news, Bountiful beat Granger. We were hoping for this because it would put us in 3rd place in the conference and set up a revenge game in the 1st round for us. We lost to Bountiful 20-19 when they scored off a 4th and long pass with about 1 minute left. We dominated them, but it was one of those games where the score didn't indicate it. They scored off a KO return and two deep passes. They could not move the ball on us other than that. I've since made changes to our personel and no one has been able to throw on us since, so I don't anticipate Bountiful doing it.
2. Got home and watched BYU slaughter Air Force 62-41. BYU was actually killing them, but AFA put in a different QB and he started throwing the ball against us (our biggest weakness is our pass defense) and started scoring a lot of their points in the 4th quarter (21 I believe). Anyway, it was good to see the Cougs dominate. Their RB (Curtis Brown) rushed for over 200 yards with 4 TD's and their QB (John Beck) had 383 yards passing and 3 TD's. He also had one pick. The sad thing about a lot of Beck's picks are that I'd guess about 5 of his 11 picks have been tipped by his own receivers. Take away those tips and he's got the same stats as USC's Matt Leinart.
3. We celebrated Caiden's BD (for the 2nd time) with his cousins and other family members at the house. It is so fun seeing him enjoy those times and the looks on his face when he opens his presents. Alene and I got him a snowboard, a game for his X-box, and an interactive Spiderman game (he puts gloves on and something around his leg and he can control spidermans moves ,as he moves, on the TV as he fights). On Thursday (a couple of days before) we went to play lazer tag with Caiden's friend James. It was a blast and I had more fun than I thought I would have.
Here are some pictures from Caiden's party:
4. Went to a halloween party at my brothers house. I'm going to post some pictures, but leave the ones of Alene out. She thinks she looks phat. I disagree, but I'll respect her wishes.
Here is a picture of Bobby, Alana, and Krystal. Bobby is a ute fan Arrrrrrrgh!
Here is my mom and dad as Mark Anthony and Cleopatra.
Here is Amanda and Brock as Princess Vespa and Lonestar (or was it Princess Leia and Han Solo??)
Here is Janna and Troy as Vampires.
And last, but not least, here I am. I didn't dress up for the party (I know, call me a party-pooper).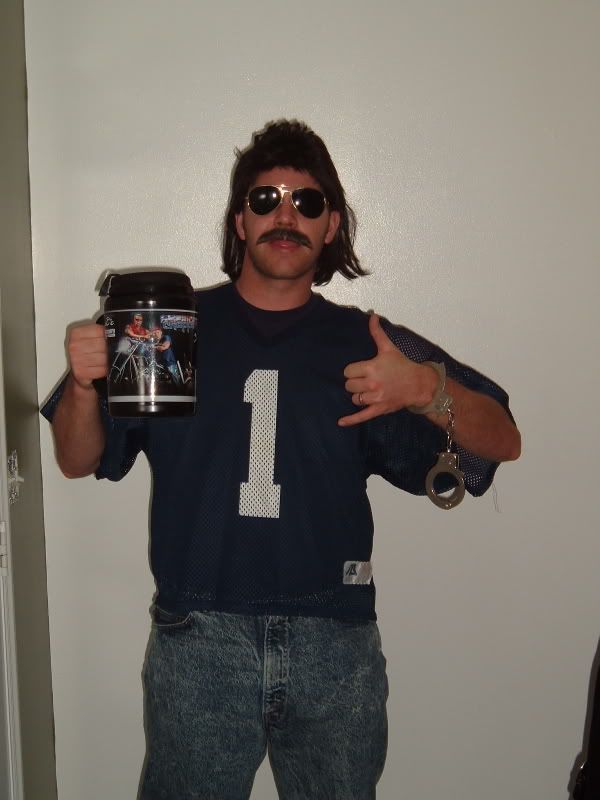 I spent a good part of Sunday working on the highlight video I'm making for my FB team. I've got about 2 more games to add to it before it's finished. I also might try to add our play-off games to it, but we'll see if we have time.