We basically finished the demolition of the cabinets on the south wall. This is how nasty that lath and plaster is behind these old cabinets:
There was a LOT of wood that was taken out from the cabinets, the old baseboards and door casing and door trim, so instead of letting it rest in a landfill, we separated it from the plaster and burned it all in the fire pit we have in the back yard. That will also save me another trip to the dump; it was a lot of wood:
(This is the last of the wood we burned)
Here are some pictures of the kitchen with all the walls torn down:
We then moved on to cutting a hole in the wall between the future dining room and the kitchen (note, for those of you that are familiar with the house, the front/entry room will now be a dining room, but it will be separated by a wall with a domed entry)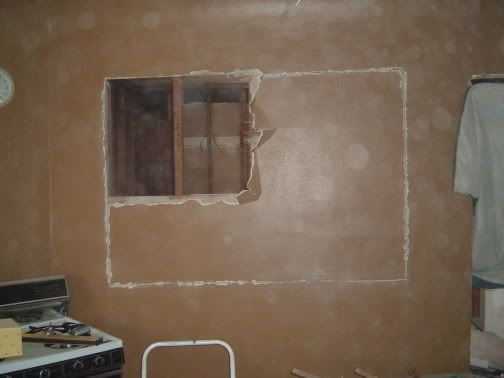 Next step will be tearing out the 3 layers the floor has on it, leveling out the joists, then putting down the new sub-floor. Once that is done, we are going to really get rolling!