Hmmmmm, life has been moving much faster after getting married. A breif run-down on what I've been doing.
Marriage
Marriage is great though. No complaints, no regrets. Not as though I expected them going in. I knew Alene was the right person for me and I only hoped I could be the right person for her, but I think I'm doing a good job of just being me and she loves me. It's so nice to come home to someone you love so much, share ideas, talk about "nothing" and get through the day. She makes me very happy and I love seeing her most brightening smile every day. It warms my heart.
We have some pictures from the wedding. I'm getting around to posting them on my web site, but it takes some time. Patience every one :-).
Caiden
Had a little "scare" or a reality check last week. Caiden's mother text messaged me and asked how long I planned on staying in Utah. My automatic reply was "indefinite. Caiden is my priority and I'll never leave him". She replied, "well, there is a chance we will be moving to San Diego. Sounds like we need to talk". My heart sunk and I was immediately saddened by even the mere thought of it. I called her immediately to talk about it.
She basically said she's been seeing some guy that lives in Chicago and is moving onto Med school. The only cities he can go to it are in Chicago, New York, San Diego and some other place. Anyway, they were considering getting married and with that, she would move to where he is. She said it wasn't set in stone that they were getting married, but they've been talking about it.
So I asked her to consider a few things besides taking Caiden. I asked her to consider him staying here with Alene and I. I also asked her to consider what Caiden wants.
We have Joint custody going on, but she has the physical custody. I have Caiden every Tues/Thurs/Saturday and every other Sunday. It works well (so far) and Caiden seems very happy with the situation.
Still, with that I have/had no idea what my rights were as far as him leaving.
To me, it naturally made sense that since he is used to Alene as his step-mom, he has all of his cousins, grandparents he's grown up with, and friends he's made, that he should stay here. If he goes to San Diego, he knows his mother and will barely know his new step-father (if it comes down to that).
Anyway, I guess we'll see how that shakes out. I just hope it doesn't come down to that. One thing is for sure, I've tried to make a little more quality time with Caiden then I have in the past. It would kill me to have him gone for months at a time. He's a part of me and I'm close to him (as I know his mother is too). To know he is somewhere else and to know he will be missing me just pains me to no end.
Web site
I've been wanting to make a quality web-site for some time. I plan on working on one during the course of this summer and hopefully have something dope and not lame like that dang geocities stuff. I just want something that is easy to check out and easy to update.
Travel
I'm stoked. Alene and I are going to be taking a little trip this weekend. I'll talk more about what we did when I get back. Needless to say, I'm excited.
Home Improvement
I've been doing a lot of work on the two front rooms of my house. Alene and I picked out some paint for each room and some pergo-like flooring for the immediate front room. The tough part has been working with the plaster in these rooms. I could tear it all out (as I've done in other rooms in the past) but these rooms are special. The ceilings don't come to a corner and start, the walls just go up, then gradually curve into the ceilings. It looks really cool. Anyway, the plaster is really old and crumbled off in some parts, mostly around the bottom where I tore off the old base-boards (I put new ones in). I had a lot of patching to do. (side-note: If you ever have to patch plaster, use the stuff called "fix-all". It's in the paint department at Home Depot and the stuff is STRONG and dries in like 20-30 minutes so use it quickly and spread it smooth; it's almost impossible to sand down).
So I patched the walls, threw some more orange-peel texture to match the existing, then painted the suckers. The TV room is a dark Green and looks dope. The front room is a brown-ish color.
I laid a light maple-looking color pergo floor, which looks really nice. Once I put down the base boards, it was even better. Now we just need some carpet for the front room and our bedroom, and a new door for our bedroom and we're all set with half the house.
Here are a few pictures of the progress: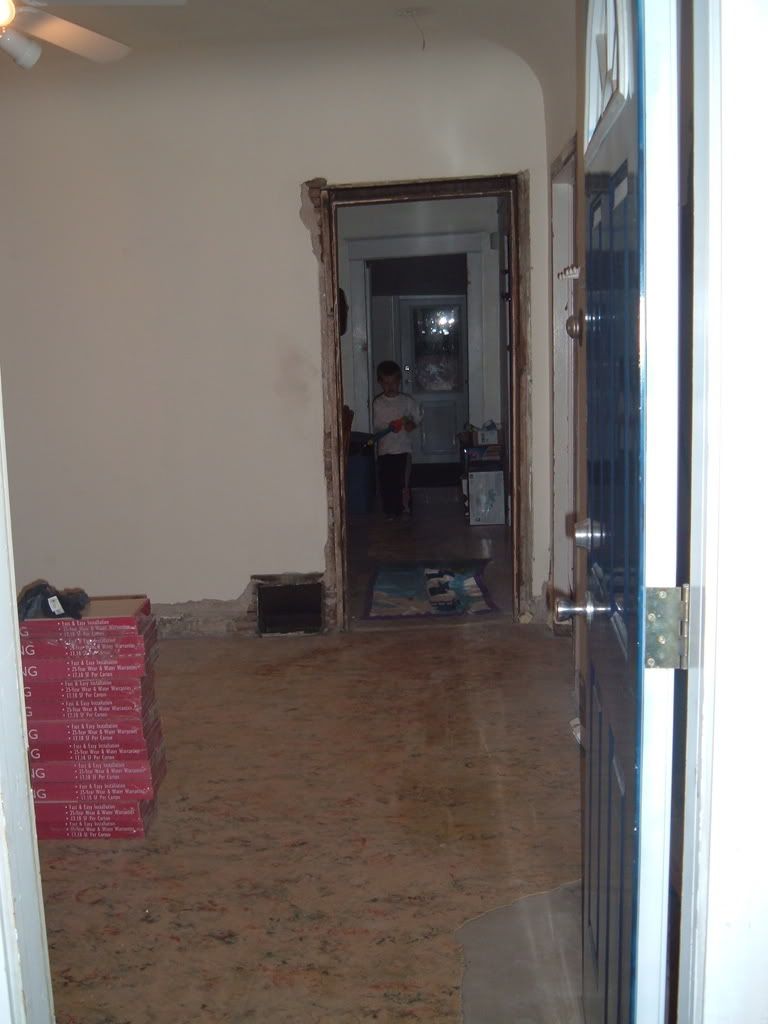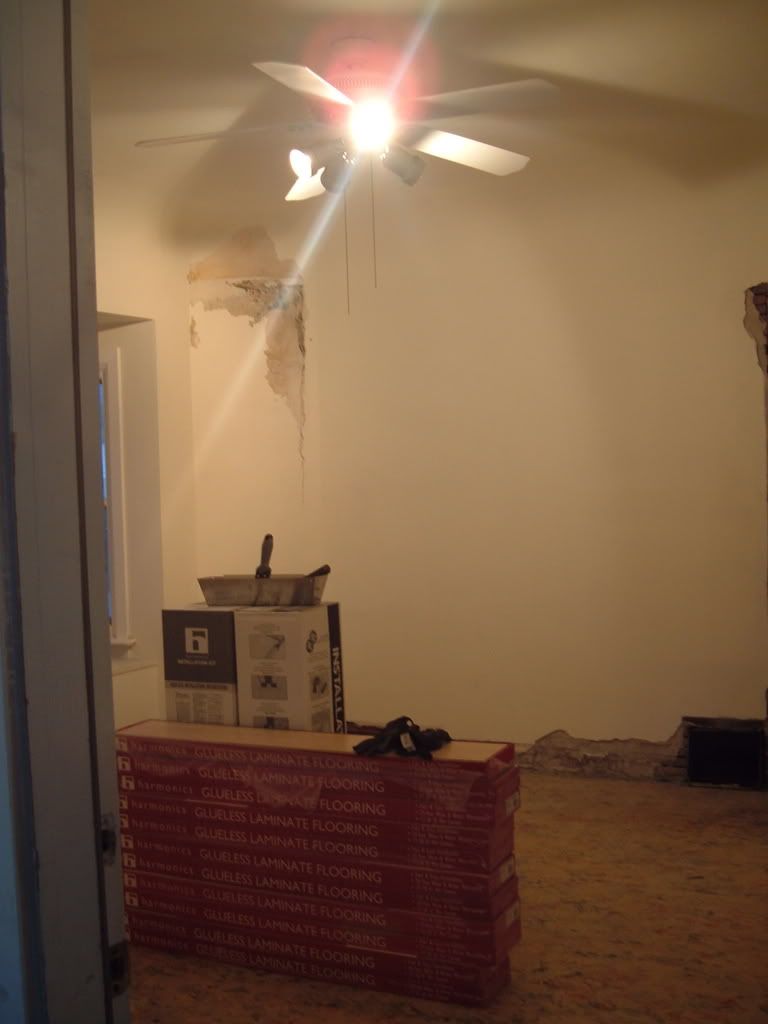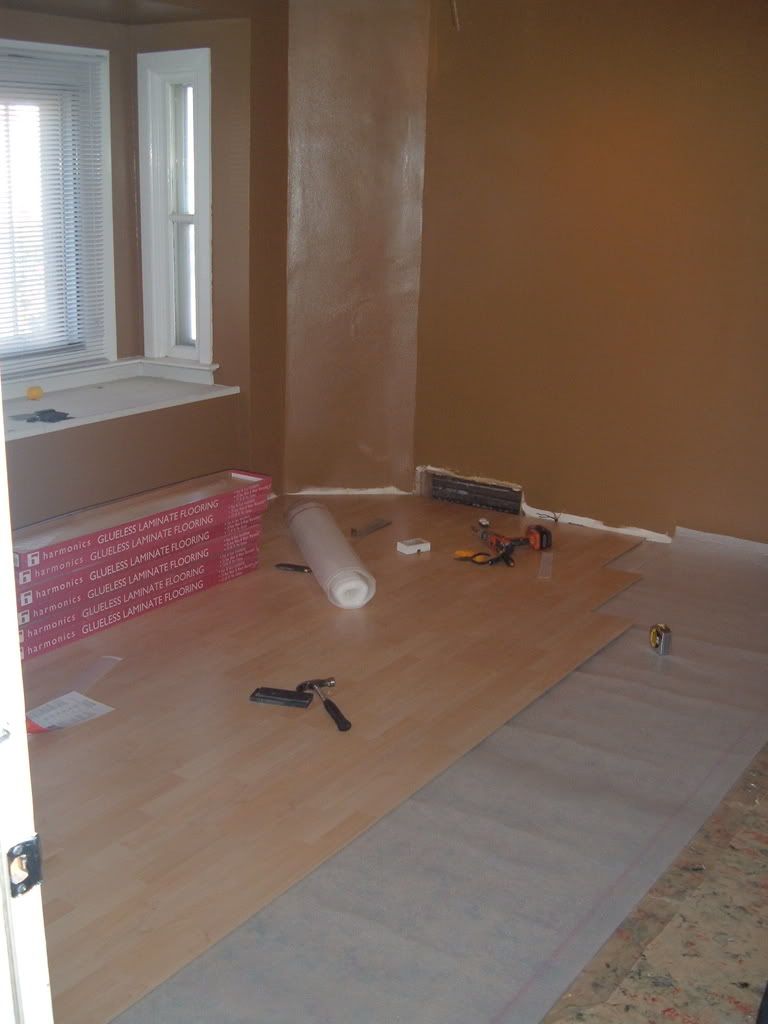 I still have a TON to do on the house though. Kitchen is next (someday) and we are going to tile it, along with the bathroom and the back laundry/office area. Should look good when it's done, but that will be a little here and there. I have to shim and level out the floor in the kitchen. That is going to be fun :-). In addition to the kitchen, I have to put on a new roof next year. I should do it now as I found a nice little leake that ran down the wall in the front room and caused a big bubble on my new paint. I'll have to temporarily patch that for this winter, then actually fix it with a new roof next year. It's going to cost about $3000 or so. I have to tear off 3 layers of roof shingles (which include asphalt and wood shingles). It's going to be a plast. Then after that I have to put down some new 7/16" OSB (for those that don't know, OSB stands for Oriented Strand Board, which is basically a sheet of that 4'x8' plywood that looks like shreds of wood glued together. It's basically used on most houses these days). I actually look forward to doing it. I've only roofed a garage and my little shed in the back, however, I did those both by hand w/o a compressor or nail gun. Now I have a dope compressor and a framing nailer (which I can use to tack down the OSB). All I have to do now is rent a roofing nailer, which won't be that much.
Church Calling
I have a calling at church now. For those of you not familiar with the LDS (Mormon) church, we are all asked to be available to have some sort of "position" or "job" or "calling" to do w/in our ward (it's the designated group of us that meet at a certain time). Callings can range from being the Bishop, one of his councelors, Sunday School teacher, Youth teacher, Librarian, Nursery, etc. They are all done on a non-paying basis. Anyway, my calling when I arrived was the Young Men's President. With this, I'm in charge of teaching and all activities for the Young men in our ward ages 12-17. Should be interesting. I don't know how prepared I am for this, but being that I coach football for kids in this age range, I think I'll be able to handle it. The only difference is I can't yell at them (well, OK, I guess I can a little) and I can't make them do down-ups or push-ups. I hope I'm able to reach out to these kids and give them some good guidance.
Food
Went to Ruby River last Friday night with Alene. Had a DANG GOOD 16 oz New York steak. Probably should have gotten the 12 oz because I was force-feeding myself by the time I got to the last 1/4 of the steak. Still, it was yummy. Most people dog me for using A-1 on my steak. They say it's not a good steak if I use it. I just like the dang stuff and put it on everything I eat (potatoes are really good with it). The steak was good as it was, but I just prefer it with A-1.
Misc.
Anyway, that is about it. Got a lot of work to get done before this weekend comes up. I'm excited for my family reunion, which is coming up in early July. Alene and I have not been able to get out camping at all lately, so I'm hoping to get out at least once before that. My new calling is going to limit my camping through a whole weekend experience a little, but I'm cool with some good Friday/Saturday camping I guess.