We had planned Saturday to go into the actual city of Cancun and visit the Market area. We figured it should be a great place to look and find some cool gifts and souvenirs. We were told earlier that the bus would cost $6.50 pesos ($0.65 American) for one ride, or we could pay double to be able to ride all day. Little did we find out those bus drivers are dishonest. Dude told me to pay $2 American and we could ride all day. When we got on the bus a second time, the driver just chuckled and said there was no such thing as an all day pass. He actually just charged us the standard rate (which was nice of him).
So, as we rode along the hotel zone, we saw a really nice looking shopping mall, so we decided to get off there just to walk around a bit and check the place out. We found an ATM and it was quite painless to get cash (just as easy as it is in America). I know that sounds crazy, but I thought it would be difficult. We shopped around the mall for an hour or so, but found that all the shops had the SAME THING. Same shirts, same statues, same trinkets. We were always on the look-out for something authentic, but could not find it.
We then hopped on the bus (where we found there was no such thing as round trip) and rode it into town to the market area. When we stepped off the bus, we were at some sort of intersection in the middle of Cancun. I had an idea of which direction to go (we forgot our map at the hotel, but I had read over it a bit) and I knew the Market would be East of the road we were on. We walked a few blocks in that direction and ran right into it. Immediately we were bombarded by people there wanting us to go spend money in their shops. It was CRAZY! In fact, I became so numb to it, it became easy to ignore everyone as they talked to me and to not make eye contact. I had to pretend they weren't there in my face, trying to sell me on something. If there was something we wanted to look at, they kept trying to shove all kinds of stuff in our face. I would turn to the guy and look him in the eye and say, "WAIT!" He understood. We spent close to an hour in the market area, then decided to get the hell out of dodge. Like the shops at the mall, they all were selling the same exact thing. Nothing unique (except for the hand-made leather shoes, purses, etc. that people were making on the spot). It was nuts though.
Getting back was a bit difficult too. We came in on a one-way road, so we were looking for the other road that headed back to the hotel zone. We found some people dressed in their hotel uniforms and we started to follow them, figuring they were walking to the bus stop. I started turning toward where I thought the hotel zone road would lead back and a local stopped me and anxiously wanted to help me go in the right direction. I gave him a couple of dollars for his help. He actually spoke VERY good English for a Mexican dude (better than some Mexicans that live here in the U.S.A.) and really was good about making sure we knew where we were going.
We got to the correct bus stop and found our bus. The bus driver, again, tried to scam us. This time he told me it was $5 American to ride the bus. I pointed at his sign, which said $6.50 pesos and he looked pissed. I handed him $11 pesos and walked in ($2 pesos short) and he didn't say a word. Alene and I were hungry and we decided to get off at another mall area to eat at the Hard Rock Cafe (we needed some American food). Right as we stepped off, we saw this restaurant: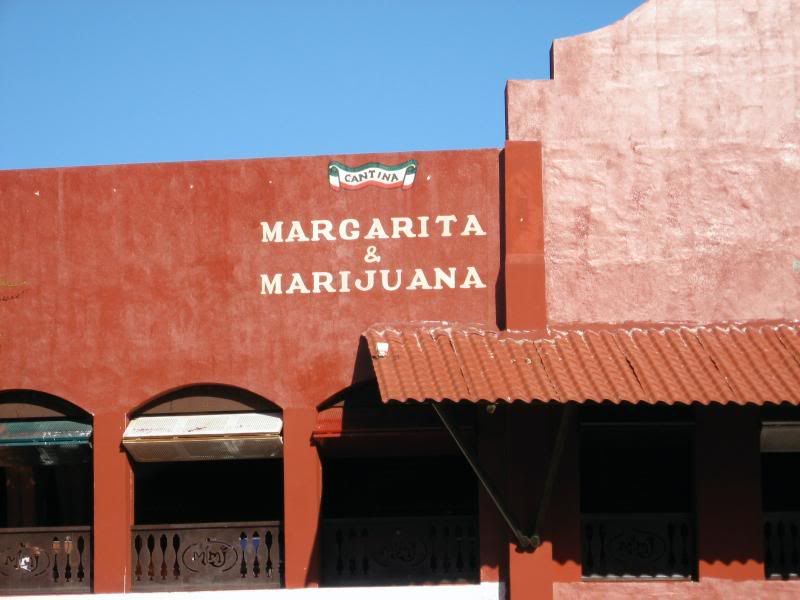 I'm sure whatever it is they drank and smoked in there, they had some sort of good time.
We ate at Hard Rock Cafe there and Alene was STOKED because the ceiling was painted with all kinds of local Mayan stuff, but also had a silhouette of the Beatles, which Alene loved and took this picture: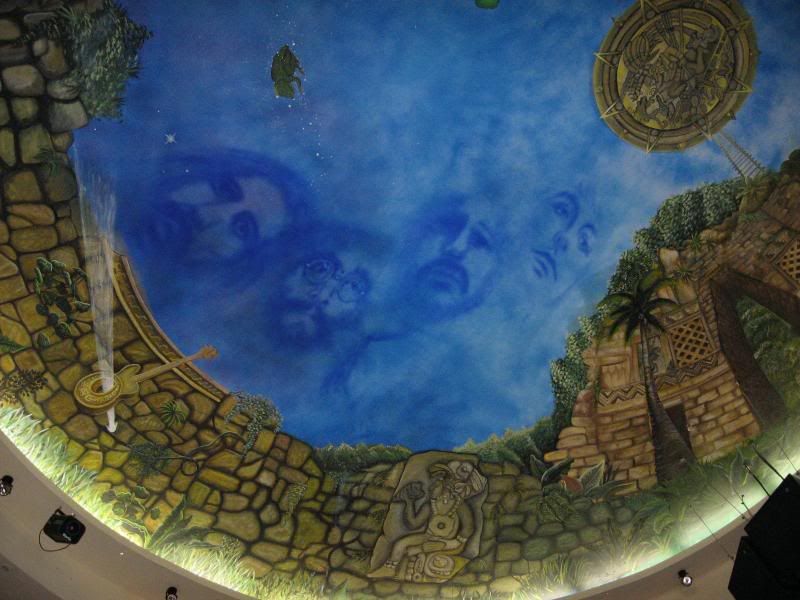 After eating, we walked through the Mall that the Hard Rock was located in, and there was an outdoor balcony facing the ocean, so we walked out there. I took this picture of what appeared to be some sort of snorkeling boat.
When we got back to the hotel, we did some more swimming and had some laughs about the sales phrases all the locals tried to use on us to get us into the store. We'd be walking by one place and a guy would yell, "Sir! Here it is!" or another would yell "Everything is just $1". They would also use the "Honeymooners! I have romantic jewelry for your new wife". It was great.