I've just been very busy with nothing much to say, or at least, when I have time I don't think of much.
Football season takes up a lot of mine and Alene's time. She's been so good about supporting me through this. She's attended every one of my games I've coached, plus the Varsity games and the BYU home games. I know how good I have it.
Football is going OK. We've lost a TON of our regular starters to grades or criminal behavior, so when I look at this team, the core of the good little league teams I've coached at this age group is not really there. It's really weird.
We started off the season 0-3, losing badly to two larger schools, but our first league game we lost 6-14, but it was to our rival, so it was a tough loss. We finally won our 2nd region game last week 34-14 and we should have some easier schools to face the next couple of weeks before facing some tougher schools by the end of our schedule.
It's still really nice to be a part of a HS program again. I help out with the Varsity games either just keeping an eye on our OL/DL and any weaknesses they're showing (I'll report them to our OL/DL coaches), and I'll help out with sidelines control (keeping the players away from the sidelines). It's not a super important job, but what I like is being visual in my learning. I get to hear the calls made and see the adjustments these great coaches make at halftime. It really helps me learn more about the game, which I feel I'll always be doing. I really enjoy it though. The varsity team is 4-1 and knocked off their rival in an amazing game that was down to the wire (it had been 5 years since we had beaten them). They only lost their first game, which was full of turn-overs and penalties (15) and it was still a close loss at 17-22. They're in the same situation as us where they'll coast in the schedule until they play in about 3 weeks, which will be a showdown of un-beaten teams in this region, it should be fun.
Oh yeah, I also made it big-time in this picture. I'm the blurry face in the background with he white hat :-).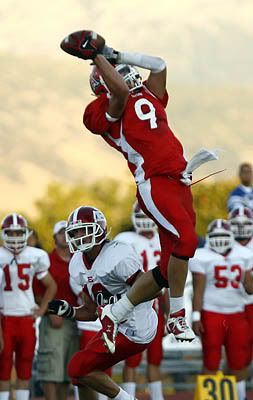 Other than all this, I've just been trying to keep up. Time flies by so quickly, I just really wish I could slow it down. Caiden grows so fast, Alene and I have been married for almost 2.5 years, it just doesn't seem that long.
One thing I really enjoyed was taking advantage of Labor Day and going on a quick excursion up into the high Uintas with Alene. We backpacked a loop of about 6 miles and camped somewhere in between. We saw some amazing lakes along the way and camped in the coolest spot I've ever seen. It was almost off a movie scene or something. If you have not seen the pictures on Alene's blog, here is the full list of the pictures we took on this trip:
Backpacking Clyde Lake
I'm really excited for a trip we are planning in a couple of weeks. We are going to go down to the San Rafael Swell and probably see Goblin Valley (Caiden loves that place), Little Wild Horse Canyon, and maybe another spot. Because of Football we can only head down on Saturday morning, but we will leave early. I'm really excited to get away and do this.
I'll try to be better about updating the blog, but I can't guarantee anything.